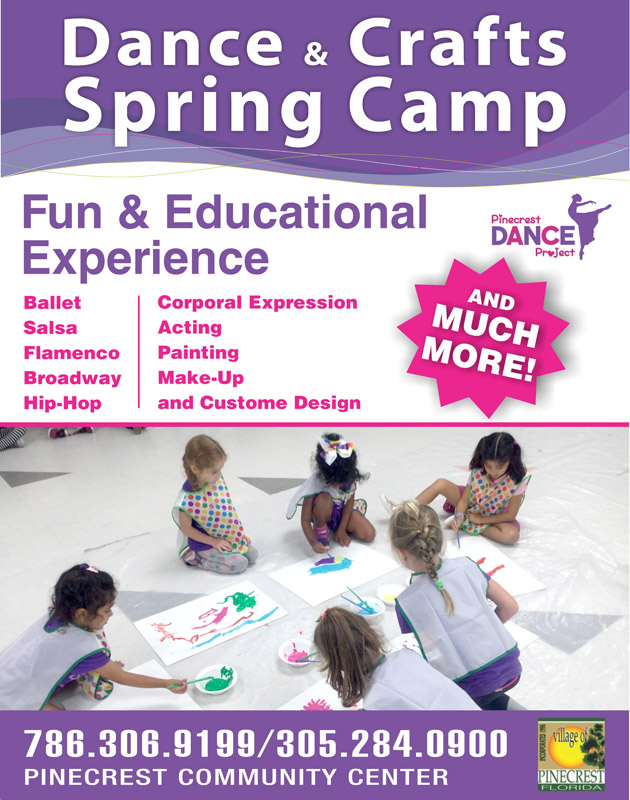 Dance & Crafts Spring Camp
Kids will experience high energy fun, athleticism and art expressions! Days will be filled with a variety of dance styles such as salsa, merengue, jazz, flamenco, hip-hop, and ballroom. Campers will also enjoy arts and crafts, learn theater techniques, and practice make-up and costume design.
Ages:
Group 1 (5 to 7 years old)
Group 2 (8 to 12 years old)
Full Day Camp
9:00 a.m. to 4:00 p.m.
Free early & aftercare available
8:00 a.m. to 9:00 a.m.
4:00 p.m. to 5:00 p.m.
Half Day Camp
9:00 a.m. to 12:00 p.m.
1:00 p.m. to 4:00 p.m.
Both plans include Friday show at
11:30 a.m. and 3:00 p.m.
Theme:
3/23 – 3/27 Fiesta!
Dress Code:
Students should wear clothing that is comfortable, does not restrict movement, and does not inhibit the instructor from ensuring proper techniques.
No Jewelry (except small earrings). Dangling earrings and hoops are strictly forbidden due to safety reasons.
Sorry, the comment form is closed at this time.